Instagram Business Accounts
January 15, 2020
Business Profiles
For any business using Instagram, it's important to change it from a personal account to a business account. It's important for quite a few reasons, but mainly to enable your followers to contact you directly from within the app, plus the insights/analytics are crucial to be able to understand the successes of your campaigns.
You can upgrade a personal Instagram profile to a business profile by linking your Instagram account to your Facebook business page. When you do that, Instagram pulls your Facebook business descriptions into your Instagram profile.
For instance, if you're on Facebook as a consultant or a store, that description appears on Instagram, too.
With a business profile, your Instagram profile gains a Contact button. The Contact button is the best reason to upgrade to a business profile because people can email or call you right from Instagram.
When you convert to a business profile, you can also access Instagram analytics. You can try a business profile, see what it does for you, and switch back to a personal account if you don't get good results.
To turn your personal Instagram into a business profile, open your account settings and select Switch to Business Profile. Instagram then guides you through a few steps, such as linking to a Facebook account and setting up your contact information.
The process is really easy. If you decide to switch back to a personal account, open your account settings and choose the option to switch back to a personal profile.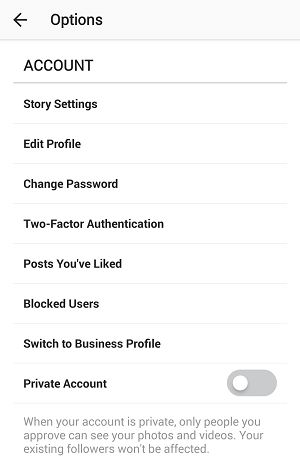 Go into your account to upgrade to an Instagram business profile.
The Contact Button
When you set up the Contact button, you can choose email, phone, or both. We connected our Contact button to our email address but for certain types of businesses, the phone option is great because a phone call is direct communication.
When people tap Call, the phone app opens and dials the number. The phone option is perfect for restaurants (so people can call and make reservations), estate agents, retail locations, event planners, and more.
For example, say someone is on Instagram searching for a local restaurant. When they find the business, they just need to tap your photo, the Contact button on your profile, and then Call.
Because the button makes calling for a reservation so easy, the conversion is amazing.
With the business profile Contact button, after someone searches for and finds a restaurant, they just need to go to the profile and then click to call for reservations.